Samuel Scheidt
(1587 - 1654)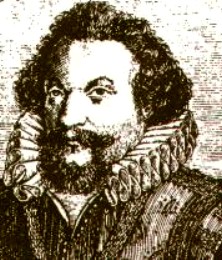 German composer and organist. He was instructed in music at the local Gymnasium, and by December 1604 had become organist at the Moritzkirche; he remained there until at least April 1607. In 1608--9 he took time off to study with Sweelinck in Amsterdam. By the end of 1609 he was back in Halle as court organist to the new administrator, Margrave Christian Wilhelm of Brandenburg, There Scheidt was responsible for playing the organ during services and providing secular keyboard music. In 1619 he opened a new organ at Bayreuth in the presence of many princes and musicians, including Praetorius and Schütz .Later, he was able to work with Praetorius, Kapellmeister in absentia, and also with Schütz. In late 1619 or early 1620 he was appointed court Kapellmeister , retaining his position as organist. From 1620 to 1625 Scheidt enlarged the court musical establishment to ten instrumentalists and five vocal soloists and published a collection of motets ( Cantiones sacrae, 1620); three volumes of instrumental ensemble music ( Ludi musici, 1621, 1622, 1624); one volume of large-scale vocal concertos ( Concertus sacri, 1622); and the most important collection of his keyboard music, the 3-volume Tabulatura nova (1624). It was also during this period that Scheidt gained a reputation as an expert in organ construction; throughout his life he was often called upon to inspect new instruments.
When the margrave left Halle for Denmark in 1625 to support the Protestant cause in the Thirty Years' War, Scheidt was able to keep his position without pay During the next several years fie made his living primarily by teaching; his most famous pupil was Adam Krieger . The city of Halle created the post of director musices for Scheidt in 1628, which carried the responsibility of supplying music for the Marktkirche, the city's most important church. He lost this post in 1630 as the result of a dispute with Christian Gueinz, Rektor of the Gymnasium. In 1636 the plague hit Halle, claiming the lives of his four surviving children. Despite these unfortunate events, Scheidt continued to publish music: the fourth and final volume of his Ludi musici appeared in 1627, the Liebliche Krafft-Blümlein was brought out in 1635, and four volumes of Geistliche Concerte were published between 1631 and 1640. Peace returned to Halle in 1638, and Scheidt fully resumed his position as court Kapellmeister .In 1642 he offered to Duke August of Brunswick a collection of more than 100 sacred madrigals for 5 voices (now lost) and a number of instrumental sinfonias designed as Preludes to vocal music. His last publication, the so-called Görlitzer Tabulatur Buch (1650), contains 100 organ chorales in 4-part harmonizations.
Scheidt was one of Germany's most distinguished composers at that time, especially in the field of keyboard music. His three volumes of Tabulatura nova (1624) are a monumental compendium of song and dance arrangements, sets of variations, fantasias, toccatas, fugues and liturgical pieces (often plainsong-based) for the Lutheran Mass and Office. Likewise his four books of Geistliche Konzerte illustrate the ways of elaborating a chorale, fusing declamatory ideas with contrapuntal writing. He also published motets and instrumental dance music.