Thomas Betterton
(c. 1635-1710)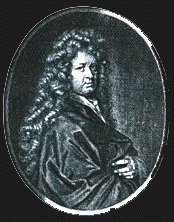 This article was originally published in Encyclopedia Britannica, Eleventh Edition, Volume III . Anonymous. Cambridge: University Press, 1910. p. 832.
English actor, son of an under-cook to King Charles I, was born in London. He was apprenticed to John Holden, Sir William Davenant's publisher, and possibly later to a bookseller named Rhodes, who had been wardrobe-keeper to the theatre in Blackfriars. The latter obtained in 1659 a license to set up a company of players at the Cockpit in Drury Lane; and on the reopening of this theatre in 1660, Betterton made his first appearance on the stage. His talents at once brought him into prominence, and he was given leading parts. On the opening of the new theatre in Lincoln's Inn Fields in 1661, Sir William Davenant, the patentee, engaged Betterton and all Rhode's company to play in his Siege of Rhodes. Betterton, besides being a public favourite, was held in high esteem by Charles II, who sent him to Paris to examine stage improvements there. According to Cibber it was after his return that shifting scenes instead of tapestry were first used in an English theatre. In 1692, in an unfortunate speculation, Betterton and his friend Sir Francis Watson were ruined; but Betterton's affection for Sir Francis was so strong that he adopted the latter's daughter and educated her for the stage. In 1693, with the aid of friends, he erected the New Playhouse in the tennis court in Lincoln's Inn Fields. It was opened in 1695 with Congreve 's Love for Love. But in a few years the profits fell off; and Betterton, labouring under the infirmities of age and gout, determined to quit the stage. At his benefit performance, when the profits are said to have been over £500, he played Valentine in Love for Love. In 1710 he made his last appearance as Melantius in The Maid's Tragedy; he died on the 28th of April, and was buried in Westminster Abbey.
In appearance he was athletic, slightly above middle height, with a tendency to stoutness; his voice was strong rather than melodious, but in recitation it was used with the greatest dexterity. Pepys, Pope, Steele and Cibber all bestow lavish praise on his acting. His repertory included a large number of Shakespearian rôles, and although many of these were presented in the tasteless versions of Davenant, Dryden , Shadwell and Nahum Tate, yet they could not hide the great histrionic gifts which Betterton possessed, nor dies his reputation rest on these performances alone. The blamelessness of his life was conspicuous in an age and a profession notorious for dissolute habits. Betterton was author of several adaptations which wer popular in their day. In 1662 he had married Mary Saunderson (d. 1712), an admirable actress, whose Ophelia shared the honours with his Hamlet.