François Couperin, ["le grand"]
(1668-1733)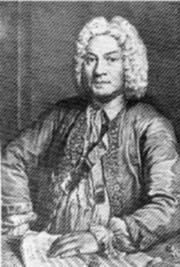 François Couperin
French composer, organist, and harpsichordist. His grandfather Charles Couperin (ca. 1595-1654) settled in Chaumes, where he was proprietor of a plot of land and for this privilege held the title Sieur de Crouilly. In 1622 Charles married Marie Andry of Brie. Four of their eight children became prominent musicians: Louis (ca. 1626-61); François (c.1631-after 1708; father of musicians Marguerite-Louise and Nicolas); Elisabeth (1636-1705; mother of composer Marc Roger Normand); and Charles (1638-79). In 1662 the last-mentioned--who the year before had succeeded his brother Louis as organist at St. Gervais--married Marie Guérin (d. ca. 1690). Six years later their only child, François, was born, the boy who was to become one of the greatest French composers of the era.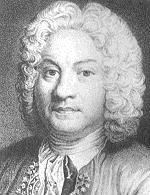 Few details of Couperin's early life are known; it is likely that his early musical instruction came from his father and perhaps also from Louis. When Charles died, the ten-year-old Francois studied further with the royal organist Jacques Thomelin, and possibly with Charles's successor at St. Gervais, Lalande. In 1685 François assumed Lalande's post at St. Gervais, though he did not receive a full contract of duty until 1689. Also in 1689 he married Marie-Anne Ansault, who bore him two daughters, Marie-Madeleine (b. 1690) and Marguerite-Antoinette (b. 1705), and two sons, Nicolas-Louis (b. 1707) and François-Laurent (b. before 1708).
In 1690 François acquired his first royal privilege to print music, which he had planned to use for his first datable composition, the Pièces d'orgue;only the engraved title page (attached to a manuscript copy) survives. In 1693 the composer was named one of the four organistes du roifor the royal chapel, replacing the recently deceased Thomelin. His salary, at 600 livres, represented an important social and economic advance for Couperin; soon he was also tutoring the royal family in harpsichord, including the Dauphin, the Duke of Burgundy, and others. He was also chamber musician for the court, perhaps filling in for the ailing d'Alembert; it was in this context that works such as the Concerts royauxwere first conceived. Already in 1690 the composer was using the noble title Couperin de Crouilly; an offer of purchase of nobility by Louis XIV (in 1696) enabled Couperin to make the title official. During the next two decades Couperin established himself as one of the leading harpsichordists of his day; he also composed church and chamber music during the king's final years. Although official appointments were slow in coming to Couperin (possibly because he did not pursue them with much vigor), in 1717 he was finally appointed to d'Alembert's post as maitre de clavecin du roi.By that time there was a new king, however-officially, the five-year-old Louis XV. Louis XIV had died in 1715, and Couperin had begun to withdraw from court duties, continuing to edit his music for publication (including Les goüts-réünis,the Nouveaux concerts,the Apothéose ... de l'incomparable monsieur de Lully,Les nations). Increasing ailments hindered his activities during the 1720s, and in 1730 he passed on his position as royal harpsichordist to his daughter Marguerite-Antoinette. In 1733 he obtained another ten-year printing privilege, but he died before he was able to use it, and none of his family took the initiative to see through to the press his remaining manuscripts. Almost none of the unpublished music survives.