Giovanni Battista Sammartini
(1700?-1775)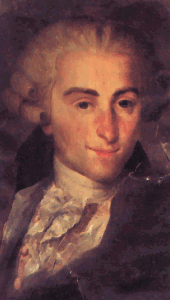 Italian composer and oboist, probably born in Milan. He played oboe in the orchestra of the Teatro Regionale Ducal in 1720. In 1728 he was appointed maestro di capella at S. Ambrogio and of the Congregation of the Jesuit Church of S. Fedele; he held the latter post for most of his life. In 1775 it was reported that he was maestro di capella for eleven churches, including the ducal chapel S. Gottardo, where he became director in 1775. From 1730 he also taught at the Collegio de' Nobili, where his pupils included Gluck (probably 1737-41). By the 1730s, his symphonies had placed him at the forefront of the first symphonic school in Europe as one of the most influential, figures in the early development of the symphony, beginning in something like the Baroque manner of Vivaldi, but going on to develop a style which is the apotheosis of the grace and elegance of the galant style. Sammartini was active in all sphere's of Milan musical life: he wrote operas, composed and conducted music for various religious and state occasions, presented concerts, and was a founder of a philharmonic society in 1758. During the 1750s and 1760s he met J.C. Bach, Boccherini, and the Mozarts; Mozart learnt a great deal from him during his stay in Milan in 1770. Prince Esterházy possessed copies of two of his symphonies, and although Haydn called him a 'scribbler' there is a distinct similarity of style between the two composers. Sammartini's death in 1775 was unexpected. Although he was highly regarded in his time, his music was quickly forgotten, and Sammartini wasnÕt to be restudied until 1913 by researchers Fausto Torrefranca, Georges de Saint-Foix, and Gaetano Cesari. Ironically, most of his surviving works have been recovered from published editions from outside his hometown of Milan.
Sammartini is mostly praised for his innovations in the development of the symphony, perhaps more so than the schools of thought in Mannheim and Vienna. His approach to symphonic composition was unique in that it drew influence from the trio sonata and concerto forms, in contrast to other composers during the time that modeled symphonies after the Italian overture. His symphonies were driven by rhythm and a clearer form, especially early sonata and rounded binary forms. His works never ceased to be inventive, and sometimes anticipated the direction of classical music such as the Sturm und Drang style.
Sammartini was a prolific composer, and his compositions include three operas, 68 symphonies, ten concertos and some of the earliest chamber music known in the history of western music. Many of Sammartini's works were published in Paris and London, where they gained great popularity. As of 2004, approximately 450 known works have been composed by Sammartini, although a fair amount of his music has been lost, especially sacred and dramatic works. Some of it may have also been lost due to publishment under other names, especially that his brother, Giuseppe. His earliest music was for liturgical use.
Sammartini's works are referred to, in publications or recordings, either by the opus number they received in his lifetime, or by the J-C numbers they receive in the Jenkins-Churgin catalog. Newell Jenkins edited some of Sammartini's works, including a Magnificat, for the first time. Sammartini's music is generally divided into three stylistic periods: the early period (1724-1739), which reflects a mixture of Baroque and Preclassical forms, the middle period (1740-1758), which suggests Preclassical form, and the late period (1759-1774), that displays Classical influences, including Mozart. Sammartini's middle period is regarded as his most significant and pioneering, during which his compositions in the galant style of music foreshadow the Classical era to come.