Giuseppe Tartini
(1692 - 1770)
Italian composer, violinist, and theorist. After receiving his early education from clerics at Pirano and Capodistria, he studied law at Padua University. In 1710 his secret marriage to Elisabetta Premazore caused him to incur the wrath of the Bishop of Padua Cardinal Giorgio Comaro, forcing him to take refuge in the Franciscan monastery at Assisi. There he is said to have studied with "Padre Boemo," probably the organist Bohuslav Cernohorsky. By 1714 he was employed in the opera orchestra at Ancona. About 1715 he was pardoned by the cardinal and was reunited with his wife, with whom he lived the following year in Venice and Padua. Probably in July 1716, he heard Veracini play in Venice and was so impressed with the virtuoso's violin technique that he is said to have gone into self-exile to perfect his own playing. By about 1720 he had returned to Venice, and on 16 April 1721 he was appointed "primo violino e capo di concerto" at St. Antonio in Padua; he retained this position until 1765. From June 1723 until 1726 he was employed by Count Kinsky at Prague; he then returned to Padua.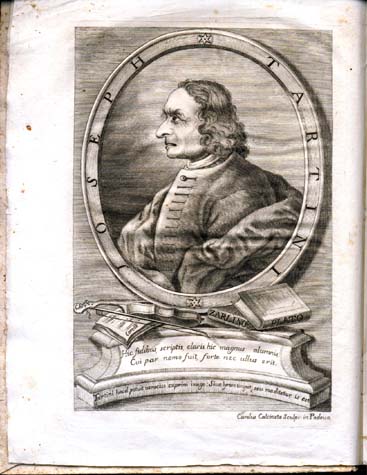 Portrait of Giuseppe Tartini, courtesy Teri Noel Towe
From the 1720s until about 1740, when he injured his arm at Bergamo, Tartini enjoyed remarkable success as a violinist. In 1727 or 1728 he founded his violin "school"; his pupils included J. G. Graun, Nardini, J. G. Naumann, Paganelli, and Pagin. He taught until at least 1767. His treatise on violin playing, Traité des agréments, appeared after his death, but it must have originated earlier, since material from it was used by Leopold Mozart in his Violinschule (1756).
Tartini published his acoustical findings in the Trattato di musica (Padua, 1754). His theoretical system incorporates the differential tone (terzo suono), which he claimed to have discovered in 1714. Also in the Trattato are discussions of melody, cadence types, dissonance, scale structure and harmonization, and meter. His compositions include a small number of sacred vocal pieces, written in the last year of his life; about 125 violin concertos; concertos for other instruments; numerous trio sonatas; and about 175 violin sonatas, including the "Trillo del Diavolo" [Devil'sTrill].