Armand-Louis Couperin
(1727-1789)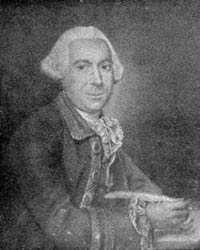 French composer, organist and harpsichordist. Couperin was born in Paris, the son of Nicolas Couperin. His mother died when he was only 17 months old and he was raised by his father, also a composer and the successor to François Couperin "Le Grand" as organist at St Gervais. Nothing is known of Couperin's education, though his library at the time of death contained 885 books, unusual for a musican and evidence of scholarly interest.
At age 21, Couperin's father died intestate, making Armand-Louis the sole heir of both his parents. His inheritance included Nicolas' post at St. Gervais. In 1752, Couperin married Elisabeth-Antoinette Blanchet, a professional musician and the daughter of the finest French harpsichord maker of the age, François-Etienne Blanchet. They had four children, three of whom, Pierre-Louis (1755-89). Gervais-François (1759-1826), and Céleste Thérèse (1793-1860) became musicans.Gervais-François Couperin was the last Couperin to be organist at St Gervais. Céleste Thérèse marks the end of the Couperin line. She was an unsuccessful piano teacher who sold the family portraits to the state to relieve her poverty (they are now at Versailles).
Couperin and his wife taught harpsichord lessons and she was the organist at the abbey of Montmartre. Following his departure from St. Gervais, Couperin's many posts included St. Barthélemy (through 1772), St Jean-en-Gr&eagrve;ve, the convent of the Carmes-Billettes, Nôtre Dame (from 1755), Sainte-Chapelle (from 1760), Sainte Marguerite, and the royal chapel (from 1770).
Couperin died at 61 in Paris in after being knocked down by a horse while hurrying from Vespers at Ste. Chapelle to St. Gervais.
References to Couperin by his contemporaries, including Charles Burney, laud his improvisational virtuosity (often displayed on the Te Deum) and established his reputation as one of the two best organists of the era. Nevertheless, only one piece for organ exists today. Couperin did not publish his church music and he refused to write for the theater. His surviving works are almost exclusively for the keyboard. Unlike many of his contemporaries, Couperin remained attached stylistically to la grande tradition française, and his pieces have been criticized for their lack of modernity. However, David Fuller cites his experimental impulse and urge to explore the possibilities of instruments. An example is his Simphonie de clavecins, the only work in existence that requires two harpsichords with genouillères (knee-levers that allowed diminuendos).