Johann Adolf Hasse
(1699 - 1783)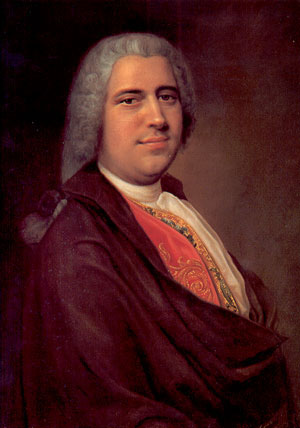 German composer. His great-grandfather, grandfather, father, and brother were musicians; active in Lübeck and Bergedorf. He studied voice in Hamburg from 17t4 until joining the local opera as a tenor in 1718, moving to Braunschweig-Wolfenbüttel in 1721, where his first opera, Antioco,was performed. Traveled to Italy in 1722, spending time in a number of cities before settling in Naples, where he studied briefly with Porpora, then with Alessandro Scarlatti; during 1726-33 over twenty of his stage works were produced for the Neapolitan court.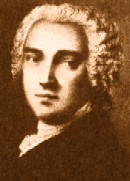 A lifelong association with Venice began with his first documented visit in 1730 for the staging of Artaserse, his first opera on a libretto by Metastasio. During his stay there he married the famed soprano Faustina Bordom and was engaged as maestro di cappella at the electoral court in Dresden (the libretto to Artaserseidentifies him as such). The couple arrived in Dresden in July 1731. Hasse's first opera for the court was Cleofide (adapted from Metastasio's Alessandro nell'Indie by Bocardi), first performed in September, with J. S. Bach and W F. Bach probably in attendance. He was in Italy from October 1731 to February 1734, and from November 1734 to January 1737; he wrote operas for Naples, Rome, Turin, Pesaro, Bologna, and Venice and produced a sizable body of sacred music for the Ospedale degli incurabili in Venice as well (he had probably contributed music to this institution since 1730, but is first named as its maestro di cappella in 1736 in the libretto to Alessandro nell'Indie). Five Hasse operas with libretti by court poet Pallavicino were premiered in Dresden between February 1737 and May 1738; after a sojourn in Venice he returned to Dresden, writing new operas and mounting revivals in 1740-42.
In January 1742 Frederick the Great heard Lucio Papirio; Hasse soon became his favorite composer, and Hasse operas were given in Berlin until the king's death in 1786. Hasse's ftiendship with Metastasio also began around this time; the two worked closely together on many operas. The next fifteen years were divided between Saxony and Italy, with Hasse presenting new works in both places; he also visited Paris. The Seven Years' War forced the Elector's court to remain in Warsaw from 1756 until 1762; Hasse probably visited Poland, but spent most of his time in the South. His last commercial opera production was Nitteti, given in Venice at Carnival 1758; he produced operas for the Neapolitan court, 1758-60, and for the court in Vienna, 1760-63. After a short stay in Dresden following the court's return, he was dismissed in 1764 and returned to Vienna, where he lived until 1772, continuing to compose and traveling periodically to Venice or Turin. His final ten years were spent in Venice; some sacred music, including three Masses and a Requiem, dates from this time. Despite his towering reputation only a few years before, he died in obscurity, receiving a gravestone only in 1820.